Hello dear readers! Today's piece about Zuko is the first in a series about certain characters I've thought were worth writing more at length about. Reviews are a fantastic format to write further at length about shows, but they do not do as much justice to complex, well developed characters; in many cases, shows feature extensive casts and unless you want to read reviews longer than the Great Wall of China, I can only really highlight the major members of a show.
Zuko in many ways is the most interesting character in one of the best Western shows in animated history, and almost certainly a top 5 deutragonist. As I noted in my Avatar: The Last Airbender review (read it if you haven't!) he serves as a foil to Aang throughout his journey in the show; his path is inextricably intertwined with the Avatar's, which manifests itself in unpredictable ways. As Zuko travels along his eventual path to becoming one of Aang's most trusted allies and eventually taking up the mantle of Fire Lord himself, there is some extraordinary character development and intriguing decisions made in a journey that is truly all Zuko's alone. Voiced by the excellent Dante Basco, the only right thing to do is 'honor' the head of the Fire Nation at length! (One final note: This review is about Zuko during Avatar: The Last Airbender. It's not going to make reference to his much older self in The Legend of Korra, which essentially amounted to a cameo.)
When Avatar: The Last Airbender began its run back in 2005, Zuko's first appearance suggested he might be the typical villain you'd expect from a Nicktoon based on the network's past performance and the unrealized brilliance that ATLA was yet to become. He was hunting the Avatar; Aang appeared conveniently from an iceberg, and perhaps the first thought one could have about Zuko was that he was a young Captain Ahab; doomed to sail the seas in pursuit of his white whale. Fortunately, that conclusion was both premature and rather short-lived. Once it quickly became clear in the first half dozen episodes of the show that it was a world-building, story driven narrative- a sharp departure from the Nickelodeon formula up to that time, and far more in line with anime counterparts from the East, Zuko's character immediately became far more interesting. Traveling with his Uncle Iroh, the only person in the world (aside from his mother) who could truly claim that he loved him, the season 1 Zuko's obsession with finding the Avatar formed a rivalry with the arrogant Admiral Zhao, a man who foolishly believed he could capture the moon spirit and destroy it, all in the name of personal hubris. The true purpose of Zhao's role in the story though was to show what would happen to Zuko if he continued down that path of blindness; dragged into the Spirit World of that universe, Zhao was forever trapped, driven to insanity by his ambition (which is revealed fully in a cameo in the second season of The Legend of Korra.) It took Zuko taking off with Aang's body into a frozen wilderness, nearly dying in the process, and personally seeing Zhao literally dragged into what can be construed as the depths of hell to start realizing that his task- his "mission," which was to regain his "honor" by capturing the Avatar, was a convenient way for his father- the tyrannical Fire Lord Ozai- to dispose of him whilst simultaneously advancing his plans for world domination.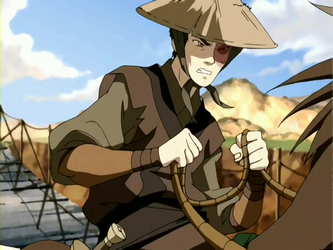 The beginning of the second season saw these fear confirmed, as his sadistic sister and crown princess of the Fire Nation- Azula- appeared. Fleeing with Iroh upon being labeled "prisoners," it would be Zuko's journey through the Earth Kingdom that would start to truly teach him what "honor" meant. Living off the land did not suit the young man used to royalty and (relatively) comfortable living, and ultimately he would be confronted by his own past. Zuko Alone is one of the best standalone episodes in the series, specifically showcasing the struggles Zuko had between his identity as Fire Nation prince and fugitive young man trying to forge his way forward. Another element that resolves itself for him in this season is the 'Blue Spirit' alias originally introduced in the first season. Essentially serving as a vigilante double, it was another expression of the young prince not necessarily being honest with himself, or the totality of his person. (After setting the Avatar's flying bison Appa free from a Dai Li prison, he symbolically sets this Robin-hood esque personality free as well by dumping the mask in Lake Laogai.) This was reflected also by his rage-fueled firebending, which seemed much weaker than that of his uncle, Iroh- the former great Fire Nation general; or Azula, whose prodigious skills were hallmarked by rare blue-colored flames and a mastery of lightning generation. As Iroh would explain to his young nephew about the balance of the elements, so too Zuko would have to find such balance within…but it would not be quite yet. After finding a quasi-peaceful existence in Ba Sing Se, the capital of the Earth Kingdom, the gut-wrenching Season 2 finale saw Zuko make a decision to team up with Azula out of indecision in his heart that fueled the almost extinguished- but not quite- thirst of capturing the Avatar that had been full bore in Boy In the Iceberg. Not to be understated here was the capture of his beloved Uncle Iroh, who he had reunited with and had helped run a tea buisness with in the city. This betrayal, along with that of Katara, whom he'd finally connected with, loomed heavily on the young prince's mind.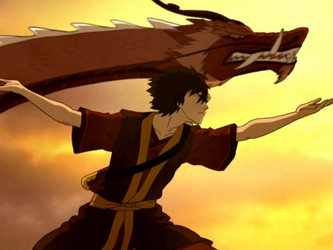 Going back to the initial introductory thoughts of this piece and my Avatar: The Last Airbender review, Zuko's path had continued to mirror Aang's up to this point. While the young Avatar had suffered a critical injury in the battle of Ba Sing Se's catacombs, Zuko had achieved redemption…or had he? Starting with Azula's lie that he, Zuko, had "killed the Avatar," doubt crept in from the word "go" on what his decisions had led him to. Season 1's finale had him nearly die trying to do what was lied about in the wake of Season 2's finale; and it was precisely the empty feeling of his "honor" upon being received back into the fold at home that Zuko's journey would finally start turning on a true path of internal discovery. After rediscovering his family roots to his maternal grandfather- Avatar Roku, and feeling deep shame and guilt for Iroh's capture, Zuko finally started to move on his own. Making his decision on the Day of Black Sun, the midseason finale, Zuko defied his father- the tyrannical Fire Lord Ozai, voiced by the always amazing Mark Hamill, and very symbolically flew off in a Fire Nation balloon, ready to forge a new path for himself- and unwittingly enough,his nation. After being received with less than enthusiastic responses from Team Avatar about his conversion (particularly Katara), he then proceeds for the next number of episodes to bond with his newfound allies in this newly formed life he chose to follow. His previously weak firebending would be replaced by an experience shared with Aang himself; the Dancing Dragon style, which was passed on from "the original firebenders, the dragons." Zuko's renewed bending signaled a shift in his motivations and determination; and on the other side, Aang would now be his pupil in firebending, as the young Avatar's fear of the element had dissipated.
Zuko would also take part in the daring rescue at the Boiling Rock prison facility, where he found a valuable friend in Sokka while rescuing his father Hakoda, and love interest, Suki- a fierce warrior in her own right. It would be at the Boiling Rock where the shift in personalities between brother and sister would become evident- as Zuko continued to be more at peace, forging the path of destiny, Princess Azula, who had been the picture of unnaturally composed in her 2nd season tour de force finally began to snap mentally, ordering the arrest of her two best friends and most trusted "henchpeople" up to that point- Mai and Ty Lee. As the heroes escaped, her descent into madness began; a story point that would resolve itself in the climatic final battle between the two. But first I must mention that our man of the hour makes up with Katara in The Southern Raiders,  a rather selfless act by the prince to help settle a personal vendetta of Katara's own. That leads us to the part you've probably all been waiting for: The final Agni Kai.
Just watch the video above. No amount of exposition or description can really adequately describe the buildup to this moment. Understand this though: far from just being one of the best battles in the entire series, everything is set up to contrast Zuko's journey against Azula's destructive rampage. Warm orange flames meet cold blue ones. Zuko's not alone like he was in season 2- this time, he sticks with Katara. Most importantly, his calm, confident demeanor stands out sharply against the obvious psychosis of the unhinged Azula here. Ultimately, Katara wins the fight and saves him after his selfless decision to protect her, but compare this version of the prince to the one from the start of the show. That's character development. (Oh, and his foil? Aang mastered all the elements, beat the Fire Lord and saved the world. Not a bad redemption for a coward and an outcast.)
---
Like this analysis? Have an opinion? Chime in. Oh, and one more thing:
You knew it was coming. HONOR! HONOR! HONOR!
---
All rights to the Nostalgia Critic and Viacom for the contents of these videos.