Welcome to the second part in a series of pieces about the Hunter x Hunter franchise; more specifically, a in-depth analysis between Nippon Animation's original adaptation of the show, from 1999, and the more recent brilliant 2011 adaptation from Madhouse. Today's focus will continue where the first part left off, detailing the remainder of the Hunter Exam arc and its characters. (If you missed Part 1, here's the link. Also, to reiterate an important point from the overall introduction of the series- this is NOT about "which series is better"- that's a different conversation and a totally subjective one at that.)
---
The Hunter Exam Phase 2- Gourmet Hunters, Picky Palettes (aka Menchi) (1999, Episodes 9-10, 2011 Episode 7)

Immediately you'll notice one of those episode discrepancies that's noticeable in the overall episode count for this arc between Nippon's adaptation and Madhouse's. While 2011 only spends one episode with this specific phase, 1999 takes a little more time with it…and there's a probable explanation for it, concerning the judging of food and Menchi's pickiness, which I'll get to. But first, our examiners and one other very special character make their debuts here:
MENCHI
1999                    2011

BUHARA
1999                   2011
CHAIRMAN NETERO
1999                   2011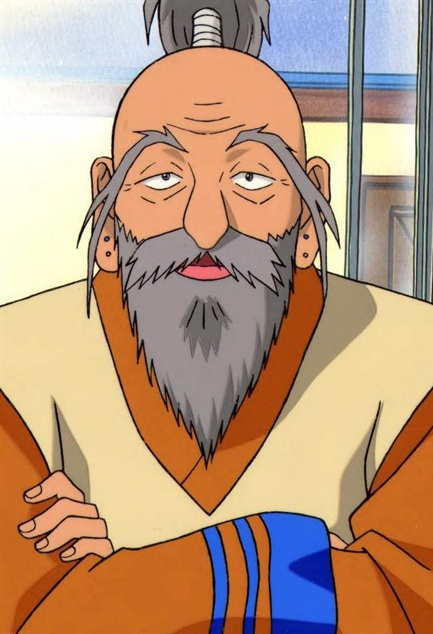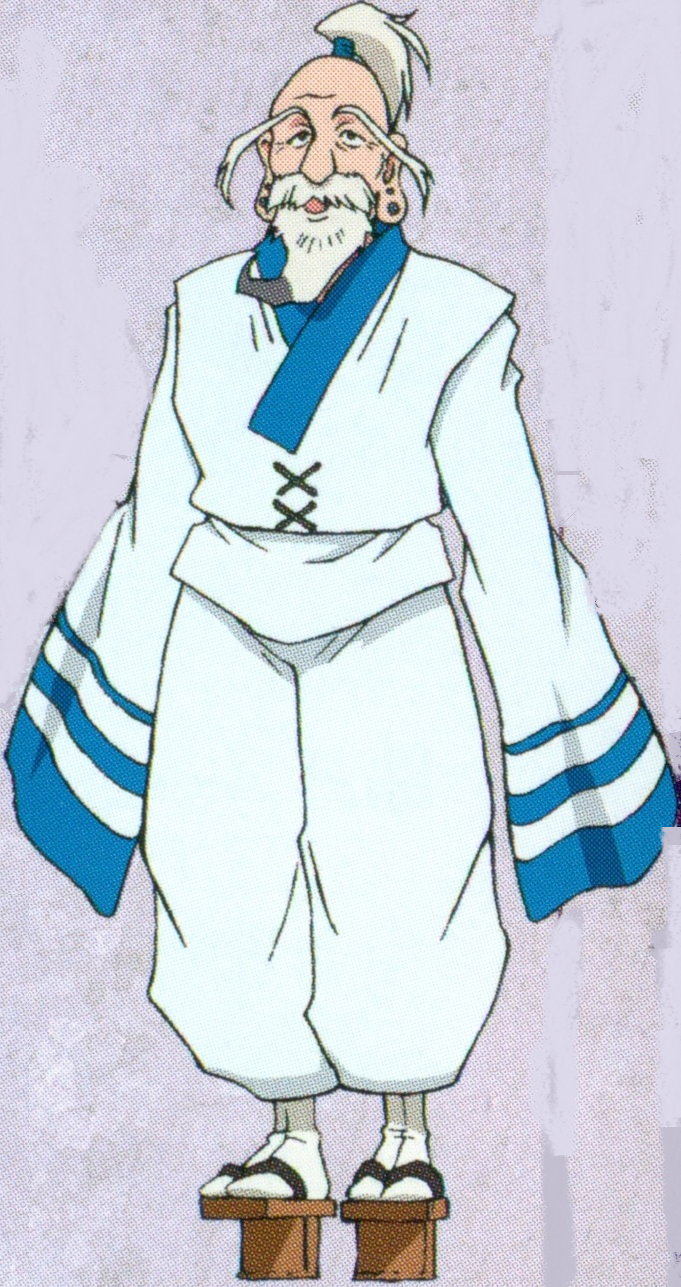 In a notable change in appearance, Menchi's hair is blue in 2011 but pink in 1999. Even more curious is that this change mirrors that of Machi, the Phantom Troupe member- she had blue hair in 1999 and pink in 2011. Go figure. She keeps the same hair style and that fiery sense of pride about being a Gourmet Hunter though.
Buhara is mostly the same, save that 2011 may have made him even slightly more massive, and to accentuate this, gave him a very ill-fitting yellow shirt. The first version of Buhara from 1999 had a far more form-fitting blue shirt, but either way, he still likes to eat a lot.
Finally, the eccentric chairman of the Hunter Association makes his debut on the request that the phase needs saving from Menchi's overly discerning palette (and don't worry, we'll get to Beans, his trusty secretary, a bit later.) While the general design of Netero is nearly the same in both versions, the aesthetic is completely different: His hair is gray rather than mostly white as in 2011, and the newer version swaps the beige coloration of '99's robes for the flowing white garments, accented with blue edges and cuffs.
So as for the actual phase itself, there's a variety of slight differences here, with the major plot points left intact. Here's a bit of a rundown:
The food tasting test in the 2nd phase starts with the capture of the Great Stamp, a vicious carnivorous pig living in the swamp forest the applicant finished running through. In 1999, this beast is black-colored, but pink in 1999. Same weak spot though- right on the forehead.
-Both series are noted for Menchi's unreasonably high standards for the cooking the applicants are asked to do, but in 2011 the only dishes she tastes are the pork from the aforementioned Stamps, alongside Buhara. In 1999, Buhara alone tastes the pork (and passes everyone); Menchi instead asks for everyone to make sushi, which goes disastrously, to great humorous effect. The '99 version in this scenario is actually more faithful to the original manga.
-Also exclusive to 1999 is Menchi's demonstration "of what it means to be a Gourmet Hunter." She runs off into the wilds, uses her knives to nab a rare ingredient from an animal (a rare moss from a rare bear in the mountains), comes back and showcases the fruits of her labor via a rice dish. This was in response to the accusation of Todo the wrestler that "Gourmet Hunters aren't real Hunters!" In 2011, she accomplishes the same goal of placating Todo with the retrieval and cooking of a spider eagle egg, the same task used in both versions to eventually pass the applicants onto the 3rd stage of the exam.
The Airship: Ball Game x Family Revelations
The "in-between" 2nd and 3rd stages of the Hunter Exam take place in both versions, but once again, 1999 has an additional element present that simply does not exist in 2011. There is a filler character- one named Anita, an applicant who failed the 2nd phase of the Exam and stowed away on the airship. She holds a grudge against the Zoldyck family for killing her father, but Killua eventually reveals to her the truth that he in fact was a notorious drug dealer. As part of her bit plot, the examiners on board also realize she is the stowaway that they're looking for, and so her little side-plot adds an extra element to this slight pause of the Exam.
More famously, this section of the arc is noted for revealing the first substantial amount of information about Killua and his family, the first serious conversation that he shares with Gon since their introduction in the tunnel portion of Phase 1, and finally, the ball game Netero challenges the boys to. While very similar in both versions, there are some slight differences:
-Anita watches the game in 1999. As she doesn't exist in 2011, it's solely between Netero and the boys.
-The ball Netero uses is yellow with a black stripe through the middle in 2011. 1999's has the same design, but is white with a red stripe.
-In 2011, Killua unveils his Rhythm Echo assassination technique at the start of the game causing Netero to remark about his mastery of the art ("What a dreadful child!") In 1999, Killua never uses any such technique, instead relying on speed and agility to try and take the ball. When Netero bounces it off his face, he remarks it "was a pass [to himself.]"
It should be noted in both versions, Gon uses his boot as a tactic to try and get the ball, and the boys both dive for the ball, only to have Netero use his Enhancer abilities to get there first. Killua gives up at that point, while Gon continues on, his goal switching to get Netero to use his right hand, which succeeds. Gon then passes out. Finally… Gon wears a white t-shirt here in 2011, and a blue one in 1999; Netero has white pants and a dark shirt on in 2011 while he wear olive-colored pants in 1999. Killua essentially has the same outfit in both versions.
Here's a video of the 2011 version to illustrate the scene. (Guess what- it's the English dub!)
I know it didn't work, but the Rhythm Echo technique looks really cool.
Phase 3: Tenuous Teamwork in Trick Tower (1999, Episodes 13-17, 2011, Episodes 8-12)
I'll start here by comparing a certain chatty ninja side by side here, as well as the latest examiner, Lippo:
HANZO
1999                                                          2011

LIPPO
1999                                                              2011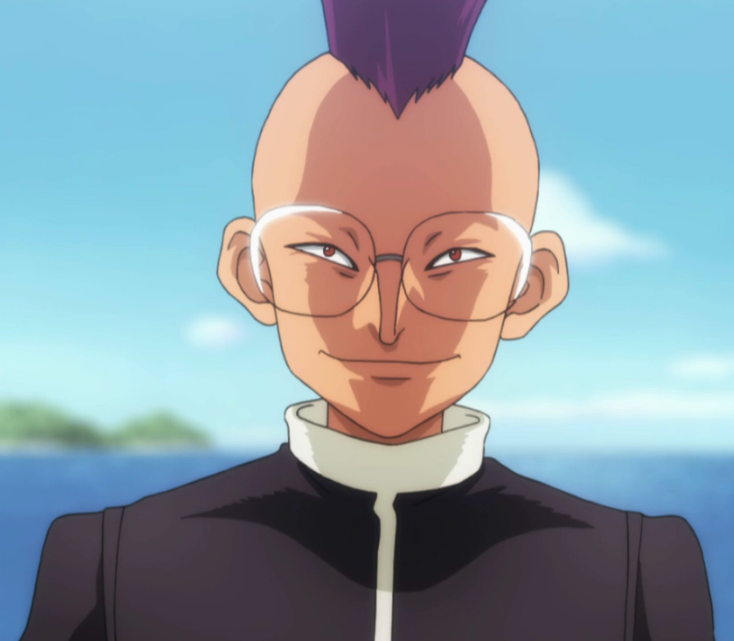 Hanzo is remarkably similar in both his appearances; easily the biggest difference is the red scarf he wears in 2011 around his neck area. His wrapped forearms and ankles are gray instead of white in 1999, and his shoulder "pads" are slightly rounder in 2011. Finally, his eyebrows are slightly more stylized in his more recent appearance.
Lippo also maintains most of his appearance. He's a short man, with the main distinctions between his two anime iterations being the color of his mohawk (black instead of purple in 1999) and the tint of his sunglasses (orange instead of clear). Either way, he loves watching the intrigue of Trick Tower unfold… especially Majority Rules.
It is during this stage the main four characters of Hunter x Hunter are together for the longest period of time alone (along with Tonpa), and the most famous part of the tower challenge is the 5 v 5 challenge match between applicants and prisoners. A few things to note here:
-Maijitani is pale-skinned in 1999, and blue in 2011. Either way, he gets anchor-punched by a vengeful Kurapika who sees the fake Phantom Troupe tattoo, and threatened by Leorio over the edge in both versions.
-Gon's win in the candle challenge, as well as Tonpa's surrender and Leorio's weakness for women are replicated in both versions quite similarly, and the team loses 50 hours either way.
And since we're talking about a big moment for Killua as well, might as well throw in Johness as well:
JOHNESS
1999                                                        2011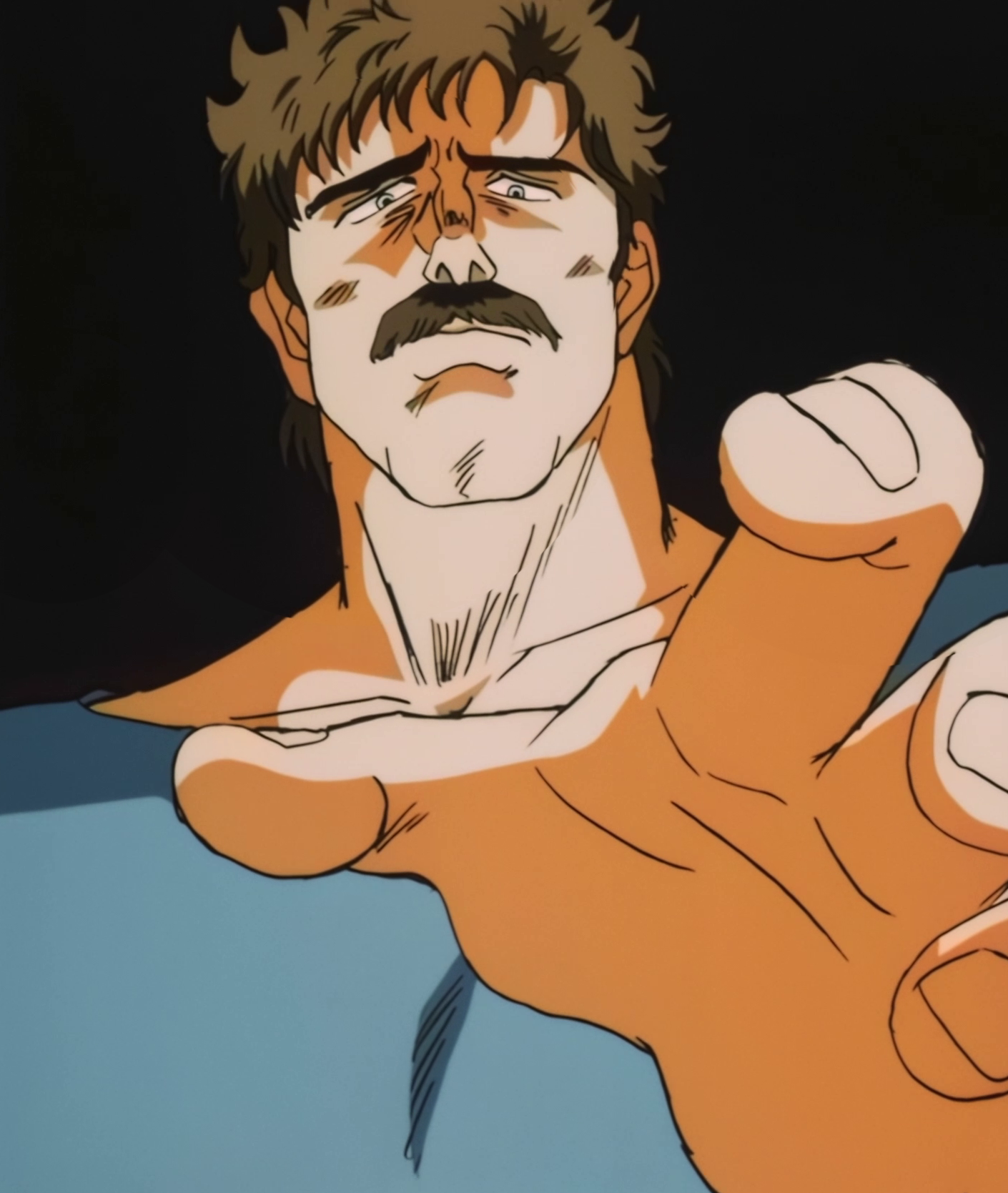 Notably, Killua's assassination of the mass murderer slightly differs: In 2011, after removing Johness' heart, Killua holds it out tauntingly until his adversary collapses, "giving it back" in his dead hand afterwards after he had begged for it. In 1999, it's decidedly more brutal as Kil opts for crushing the heart in his hand as Johannes looked on. Definitely a bit more graphic for sure.
The last big moment for Trick Tower occurs in the final room, where Lippo had set a trap for the time-starved applicants (they only had 1 hour left to finish at this point:) The long path or the short path to the finish, with a catch-22: The short path could get to the bottom in under 3 minutes, but only 3 of the 5 would have been able to go, while the other path allowed passage for all 5, but was stated to take 45 hours. In both Nippon and Madhouse's animes, Gon's idea to choose the long path and break through the wall to the short path in order for all 5 members to pass is inspired by Leorio and Tonpa's bubbling dispute and the latter's use of a heavy battleaxe, which smashed the floor tiles. What differs is how they show this final act: In 1999, the act of breaking through the wall and the journey down the shaft to the finish on Killua's skateboard is shown as it happens; in 2011, it's shown in a flashback after the group emerges from the passageway with no time to spare (and Leorio and Tonpa jousting with each other.)
The "Bonus" 3rd Stage- Shipwrecks, Treasure Hunting, and Teamwork (1999, Episodes 18-20, 2011 N/A)
Perhaps the single biggest divergence between both versions, the Nippon Animation adaptation has a mini-filler arc that sees the Exam applicants in a "bonus 3rd phase" that in turn actually gives us some interesting character interactions and some depth to side characters that in turn, actually adds some heightened emotional tension to their outcomes in the 4th phase of the Exam that follows. Interestingly enough, it also is the first time Illumi is revealed in his true form for the 1999 anime, when Kurapika, drifting into unconsciousness during the 20th episode (they're in a cyclone), sees the eldest of the Zoldyck children take the wheel of the ship (though he does not know his identity as Killua's brother yet.)
A Most Dangerous Game of Tag- 4th Stage on Zevil Island (1999, Episodes 21-25, 2011, Episodes 14-18)
The 4th stage really puts the abilities of the applicants to the test in a "real-world setting," and so we'll give a cameo appearance here to the man who tracked Gon as he followed Hisoka: Geretta. It's also time to give a nod to Ponzu, known for her big poofy hat full of bees:
GERETTA
1999                             2011
PONZU
1999                                    2011
Another character who's remarkably similar between the two adaptations, he's definitely got a unique flair and some skill with a blow-dart gun, but stands no chance against Hisoka…but then again, who usually does?
Ponzu underwent some heavy changes. Her hat is bigger in 2011 and yellow with a white brim; she's got a pink shirt but cream-colored pants and a lighter blue shade of hair. In 1999, the hat is smaller and pink-colored, as is the rest of her outfit. (She still faces the same dilemma in both versions though, with the cave and Bourbon's snakes.)
Killua's scene where he screws around with the Amori Brothers and Hanzo goes largely the same way in both adaptations, with some minor differences. Kurapika and Leorio team up to take down Tonpa and the monkey tamer in both versions- however, in 1999 Kurapika sets the monkey free from his master, and Tonpa makes his last stand trying desperately to get a badge as time expires rather than staying tied up the whole time. (And thus ends the legend of the Rookie Crusher…until next year.)
Finally, there's the entire issue of Gon's quest to get Hisoka's badge and confrontation. Notably, the process to learn the skill of casting his fishing rod at the precise moment goes about the same in both versions, but when he follows Hisoka's bloodlust, it's at dusk/night in 1999 as opposed to day in 2011. Nippon's version also shows Gon stewing over his first real letdown/scare in the series after Hisoka clocks him; the 2011 anime doesn't really linger on the scene as much. Still, the badges will be held onto for another day…
Finally, the Ponzu escape scene happens much the same, and with that, the 4th phase concludes, leaving only 9 applicants left for the last stage after the grueling tests (though according to Killua, he doesn't think so.)
The Final Phase: Tournament Showdown (1999, Episodes 26-30, 2011, Episodes 18-21)
Finally, the end of  the Hunter Exam is upon us, and with it, three final characters get a profile:
BODORO
1999                   2011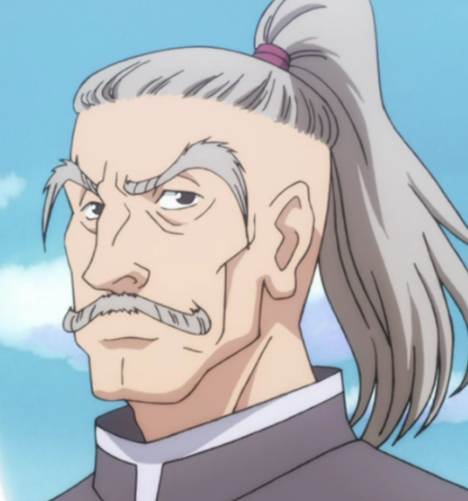 POKKLE
1999                   2011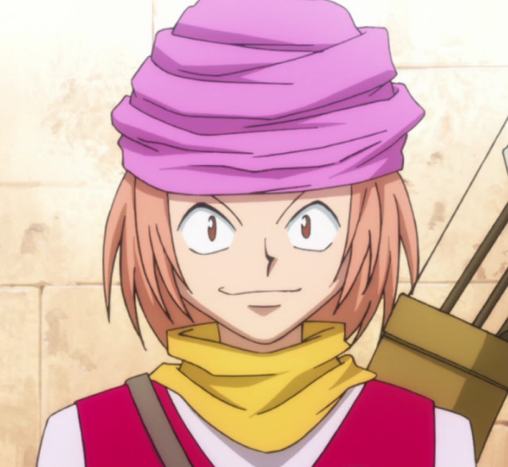 ILLUMI ZOLDYCK (AS GITTARAKUR)
1999                   2011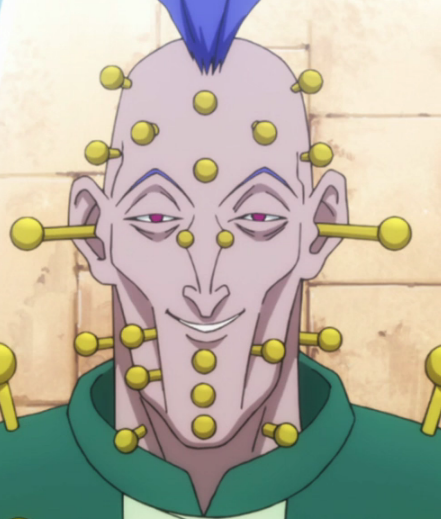 Pokkle actually has a similar appearance, but his clothes colors are different and more muted in 1999, and his hair color's brighter in 2011. He still passes the 4th phase in both versions by using a poison arrow to incapacitate his target.
-In 1999, Leorio, Pokkle, and Hanzo initially believe the final test is going to be a written exam. While Pokkle insists on studying fairly, Leorio lines his clothes with cheat sheets, while Hanzo conspires "to steal the answer sheet." Regardless, all are wrong when Netero reveals the tournament instead.
-Also in Nippon's version, Gon and Killua share another friendship moment when the former reveals his technique for gaining Hisoka's badge; Killua in turn practices with Gon's fishing rod and masters the the skill rather quickly, much to his friend's dismay.
-The building in which the final exam takes place in appears to be the same in both versions, but the lighting of 1999's makes it seem far darker inside than 2011's, which is very bright by comparison.
-Notably, Kurapika and Hisoka face off first in 1999, unlike 2011 where Gon vs Hanzo takes place. It is the only full-length fight between the two series that only is shown in full in Nippon's adaptation, whereas in 2011, it is Satotz's recollection of the fight to Gon, only showing that Hisoka "said something" to Kurapika and conceded the match to the latter.
Gon and Satotz have the same discussion after he's KO'ed by Hanzo in both versions. However, because the order of the Hisoka-Kurapika fight and Gon's bout with Hanzo were swapped in Madhouse's adaptation, Gon never sees the fight in this version, whereas he's present for it in 1999.
Speaking of the Hanzo fight, it's interesting to see how hard it is for Kurapika and Leorio to restrain themselves during the fight, as they'd become quite attached to Gon. Kurapika's scarlet eyes actually appear here, one of the very few times it happened outside of Phantom Troupe -related incidents and a sign that he cares very much for his friends.
-The tournament bracket in both versions is directly inspired from Togashi's first manga, Yu Yu Hakusho, where Team Urameshi is forced to fight their way through an uneven bracket to win the Dark Tournament. Unlike that scenario though, Hunter x Hunter's tournament here has it so only one applicant will not pass if the tourney reaches the final stage, which it does not, because…
-Killua's confrontation with Illumi is actually remarkably similar between both versions. In 1999, it was impossible to realize that he was actually influenced by Illumi's needle implanted in his brain (as that version never reached the Chimera Ant arc), but aside from that, Killua's burning desire for a friend and his internal conflict come to a head (which both anime do a nice job of.) Leorio also bursts in and comes to the defense of Killua, reminding him "You and Gon are already friends!" in entirely the same way both times.
-Finally, here's Killua's despair and the untimely murder of Bodoro from 2011:
Needless to say, Gon is not happy. Not happy at all. He want to know where his new best friend is, and whether it's Nippon Animation or Madhouse, he isn't stopping until he gets answers…and he know just who to ask.
With the Hunter Exam over and the licenses handed out, Gon obviously has some unfinished buisness with Illumi Zoldyck. The 3rd part of the series will focus on his journey to save Killua and paying the family a visit at Kukuroo Mountain with Leorio and Kurapika. In other words, get ready for the Zoldyck Family arc- 1999 vs 2011 style! In the meantime, check out the 2011 show review or this character piece on Killua for your reading pleasure.

---
Like what you see? Is the Hunter Exam your favorite arc of Hunter x Hunter? Leave a comment!