After a brief "hiatus x hiatus" from the "What's in a Character" series, I now return with the second anime character to be included in said series- Killua Zoldyck from Hunter x Hunter. If you read the review on the 2011 anime, watched the show in general (or the '99 version), or read the HxH manga, it's readily apparent that Killua certainly deserves an analysis of his own. And…he's also my favorite character in animation, so that doesn't hurt his case either. At any rate, he's arguably the best developed character in a show that's full of them.
(SPOILERS AHEAD. Major parts of Hunter x Hunter will be discussed here, so turn away if you don't want to see them!)
For a long time, I've been pondering how to do justice to the incredible character and development that is and defines Killua Zoldyck from Hunter x Hunter. I really didn't want to do just a straight chronological journey through the show, lest it turned into simply a recap summary, and I also wanted to emphasize his fundamental traits that stayed the same and yet changed over the course of the show. So, we'll start with the most fundamental aspect of Killua over the series that in turn defines the rest of his traits and fuels his character development- his friendship with Gon.
As I wrote about in the Hunter x Hunter review, Gon and Killua share one of the best bonds of friendship in any show…largely because it has a very organic, natural way of developing in the framework of the story. To start with, there's a natural impetus in place for such a relationship to develop in the Hunter Exam- both boys had never known anyone else their age as a friend: Gon lived on sparsely populated Whale Island, nowhere near or around other children; and Killua's life had been the brutal upbringing of an assassin; taught and indoctrinated in the ways of the family business; there was a desire for friendship (which was shown briefly in a flashback of Canary's in The x Zoldyck x Family), but not really a means for doing so under the vigilant eyes of his family, particularly his brother Illumi. Add in the fact that the duo are by far the youngest applicants at the Exam, and the basic framework is there to start building something special…but that alone wouldn't be enough.
Killua's journey is part and parcel with this friendship. He's a level-headed, more logical and savvier-about-the-world foil to Gon's unbridled enthusiasm and recklessness, but it's also a symbiotic relationship. In many ways, the boys' paths are the same and divergent simultaneously. Both share a goal to travel and get stronger. To that end, they spurn each other on to greater heights, and nowhere was this more evident than on Greed Island (as a sort of joyful, yet dangerous training ground), and far more somberly with their struggles in the Chimera Ant arc, evidenced by their struggles against Knuckle and Shoot, and later, the perfection of their hatsu, or special Nen ability. Individually though, Killua's goal stood on finding his own path- something deviated off the track of the Zoldyck clan's long sordid history of assassination- and while he promises to tag along in finding Gon's dad, the elusive Ging Freeccs, the journey with his best friend really makes him evolve…and nowhere is that more evident than his courage and determination.
A major focus on Killua's character is his spirit- which is to say, his resilience and ability to take on tasks and opponents that he could neither clearly beat or even was at a disadvantage against. While he displayed the confidence and ease in which he could dispatch an over-matched opponent in his first fight of the series (against Johannes), he was both naively arrogant and weak-willed when push came to shove in the final stage of the Exam, dismissing Pokkle but unable to stand up to Illumi. But it's more than that- Killua reveals that all he wants is "for Gon to be my friend!" without realizing that it's a) not something he needs to ask for and b) that Gon already considered him his best friend at that point. When Killua's spirit melts at this point, he kills Botero in cold blood- without Gon there and an uncertain despair that overtook him, he defaulted to the only thing he'd known in his sad young life, and departed for home, certain that he had no will of his own.
---
The Zoldyck Family arc makes it quickly known why exactly Killua doesn't like the place where he grew up- the inside of the house is more akin to a medieval castle decked out with a modern security system of the highest degree, complete with torture room; it's isolated, being atop a mountain, and because of the numerous safeguards and obstacles that separate outsiders from the family, starting with the Testing Gate, it's also easy to see why he had no friends until he met Gon, assassins' training and duties aside.  But the arc also reveals more in depth Killua's other massive insecurity- the weight of being the family heir, something he was not entirely interested in. What meeting Gon did was actually give Killua true hope for the first time that he'd be able to follow his own path, and not necessarily the way of the assassin as the family trade dictated. When word reached him that his friend had actually come to Kukuroo Mountain, his despair ebbed away, replaced by a desire and excitement to see him. Compounded with his surprising meeting with his father Silva (in the picture), he made a blood vow "to always protect his friends," and was free to choose his path…with some family stipulations of course.
Unbeknownst to him, Illumi had planted a needle in his forehead prior to the events of the series by his Nen abilities. Due to his brother's abilities as a Manipulator, it explained why Killua's weak self-will during the Hunter Exam directly compounded the level of control Illumi's influence had over him- looking more for self-preservation than anything else. When the needle is disposed of in his emotional battle against the Chimera Ant Rammot, Killua is able to rid himself of it, not just because he sensed it, but because he'd grown as a person. This growth was facilitated by the bond and shared experience of traveling with Gon, from their early travels to Heavens Arena, to assisting Kurapika in his quest against the Phantom Troupe (an endeavor Killua initially does not want anything to do with, but follows Gon's lead), their training on Greed Island, where Biscuit Kreuger greatly strengthens them, and up through their disastrous trip into NGL with Kite, an event that severely affected Gon's mental state and showcased a sort of concern from Killua towards a friend that would have been unprecedented when he first met Gon; at the time he was visibly surprised that Gon would help Leorio out in the first stage of the Hunter Exam by carrying his briefcase and refusing to leave him behind, not perhaps understanding the spirit of human resilience yet considering his own state…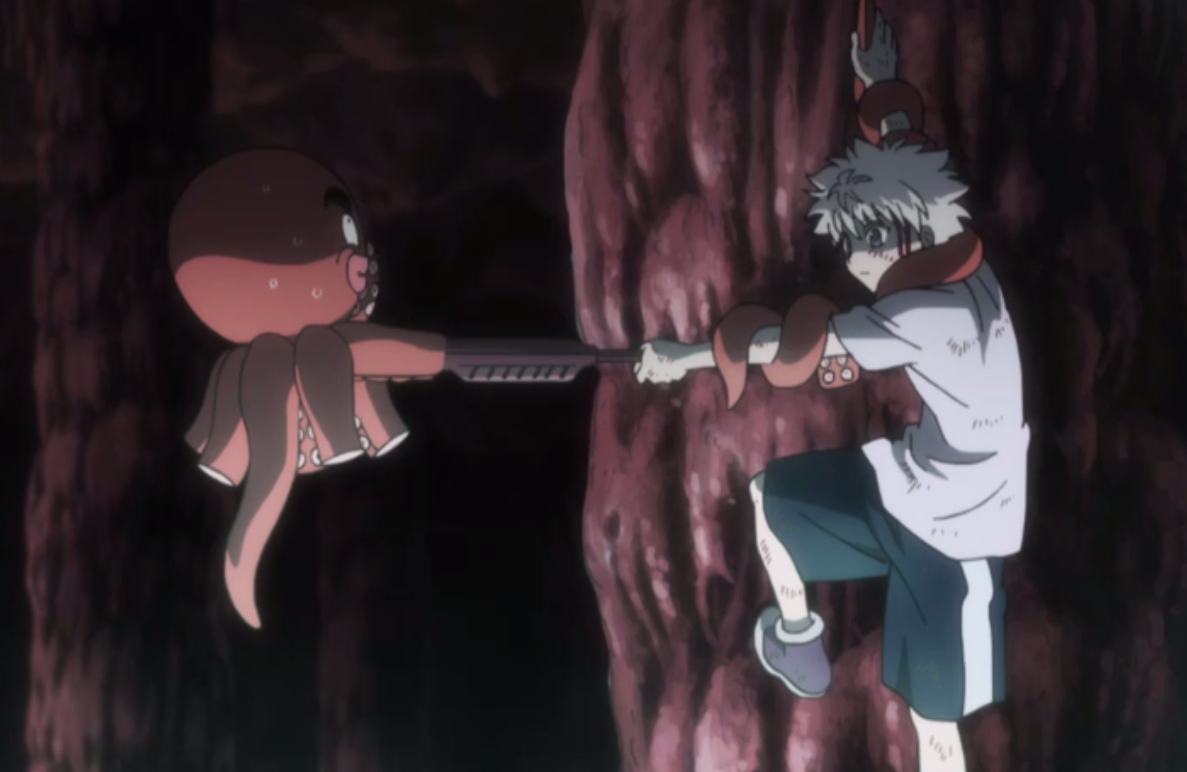 Killua's unlikely encounter with Ikalgo also demonstrated major ways in which he'd changed. As an enemy combatant, Ikalgo would have been straightaway killed if this was Hunter Exam Killua, operating under the standard practices of the family business. However, Killua's humanity grew with his spirit. The octopus Ant was saved from certain death at the jaws of his ex-allies by the young Hunter (who could have easily killed his adversary)…and as a result of his actions, Ikalgo had a change of heart and wound up saving the subject of this article after the world's most dangerous game of darts. Trust therefore, came with an ability to open up to potential allies, starting with Gon and continuing onwards.
When Killua unveils his ultimate hatsu technique- Godspeed, on Youpi, a Chimera Ant Royal Guard who was far stronger than himself, it is a sobering reminder of how much his spirit and skills had grown. It's true that Killua was a prodigy- able to learn combat skills and perfect them at a far quicker rate than normal; and that his brutal upbringing gave him an advantage in other ways, but it was his journey with Gon that allowed him to find his own unique attributes…and stare down opponents that weren't a sure-fire victory. It's true that the removal of the needle was key, but Killua continued to grow from that point…his reasons for fighting ultimately transitioned to be very selfless by the end of the series, as he fought to protect those he cared about without question- chiefly Gon, and then Alluka.
---
While all the above served as an analysis of Killua's character progression, he's just a superbly crafted individual by fictional standards. I love how he has a playful, mischievous side that can come out just as easily as his ingrained killer instinct; that he has a friendship that is not only organic, but unfolds naturally as a key part of his development and of the storyline itself, and that despite being a prodigy in his enormously skilled (and twisted) family, he's a flawed individual with much room to grow. At the end of the series, he's a kinder, compassionate kid who's unnaturally jacked for 14 years old (seriously, non-stop training will do that) and a commitment to the people he really cares about, all while carving his own adventure, shared with Gon (and then Alluka). Finally, he's just really aesthetically pleasing from a character design standpoint. If anyone embodies what "being a Hunter" is about on this show, in terms of discovery and wonder, it might just be Killua Zoldyck.
---
"BAKA!"
Just skip to 0:35 for the best part…but the whole thing is comedy gold. Nee hee…
---
Like what you see? For the record, Killua's my favorite anime character. Leave a comment!