Well, I kept everyone waiting yet again. After the Christmas treat that was Nonon's character piece, it took a while again to really put together one of these special character pieces for the "What's in a Character?" series. Today's entry takes a pretty dramatic turn away from one crazy school in Kill la Kill to Kunugigaoka Junior High's Class 3-E. Yup, we're taking a trip to the Assassination Classroom once more (here's the review on the show), and who better to guide that journey than the main character and narrator of that series, student #11, Nagisa Shiota? There's a lot more to that wispy frame and flowing blue hair than meets the eyes, and his talent for both reading people, and more unnervingly, assassination, is undeniable. Get ready to come face to face with one of Korosensei's well-trained pupils, in both military training and in life.
WARNING: Major spoilers for Assassination Classroom follow.
---
Initially speaking, the obvious character choice to talk about from this series is Koro-sensei- the one of a kind Mach-20 octopus man and crack teacher. In fact, it's entirely conceivable that he could still be talked about in another character piece, but for today, the spotlight instead shines on the actual main protagonist and narrator of the show- Nagisa.
So what's unique about this kid? Quite a lot actually.
By virtue of being in Class 3-E, Nagisa was looking to overcome the odds along with the rest of his class. From the start of the series, it is shown that he's an extremely perceptive individual, but at the time also lacks the sort of confidence in himself you'd hope for. Quite a few details are omitted and then brought to light as time went on: an unlikely prior friendship with Karma Akabane, the bad boy genius of 3-E; an almost abusive mother who projected her fantasies of wanting a girl onto Nagisa, reflected in his long blue hair that he usually kept tied up in those "floofs," and his own dreams being suppressed in turn by said mother, which means Nagisa as a person blossomed in his one year as a 3-E student.
The discovery of Nagisa's latent natural talent at assassination and the subsequent question of what his future holds forms a major aspect of his character arc. His talent is foreshadowed immediately in "Assassination Time" (episode 1), with the "suicide" tactic Terasaka cooks up for him; again in "Assembly Time" (episode 5) when the class is required to attend a school assembly and Nagisa's mere look terrifies two would-be bullies, and it becomes readily apparent to everyone else in "Talent Time" (episode 13), when Nagisa turns the tables on Takaoka, displaying the unnerving ability to turn a combat veteran's hardened experience again him, along with full use of his unassuming and normally non-threatening appearance to its full advantage. The dynamic only continues to intensify during the class's vacation to the resort island, when Nagisa once again defeats Takaoka in a rematch coordinated by the rogue mercenary as a means of revenge (and unintentionally good training for the class.)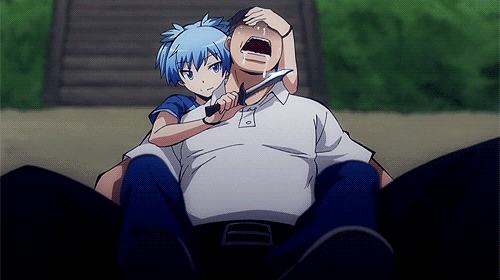 Takaoka should have quit while he was ahead. This is one battle he won't win.
Since I brought it up, I'd be amiss not to talk at least briefly about his long-standing friendship with Karma. It's revealed immediately that the two are on friendly terms the moment Karma steps into 3-E, surprising the other students, and while they are in fact friends, there was also a fierce rivalry that boiled beneath the surface of the two boys' relationship. Even more intriguing was the contrast in combat styles: Nagisa was an assassin in the purest sense of the word, always looking for an opening and a quick takedown, while Karma was a brawler with a bag of dirty tricks, his fist backing up his mouth and his mind as a threat. Nagisa always felt in the shadow of his friend, but the dynamic in 3-E shifted as he grew through the year, especially in his skills with assassination, and eventually, everything came to a head in one of the best fights of the series:
I suppose if you want to make a lasting point, you settle it like men.
There was also  the relationship with Kaede Kayano that boiled over in the same season. For what it's worth, it might be one of the better shipping fakeouts in anime, largely because everything prior to Kayano's tentacled reveal can be questioned as whether it was genuine or not, given her role as a professional actress. What was not in question was that Nagisa regarded her as a friend and potential romantic interest. The specific way in which he helped stop her rampage was also a pretty unexpected callback to the technique Irina Jelevic used on him back in "Grown-up Time" (episode 4) and in an ironic twist, the skill Nagisa had carefully accumulated over time probably saved a life that day instead of taking one.
In turn, Nagisa's aptitude in taking what he'd learned and practically applying it to situations served him incredibly well in another way aside from the assassin arts- as a teacher. In a heartfelt episode ("Before and After Time," episode 28) , after the class accidentally breaks an elderly principal's leg, Koro-sensei bans them from studying for the midterms…and in exchange, 3-E is tasked to repair the run-down school of the principal in question. It is here that Nagisa mentors a young girl beat down mentally by past acts of bullying in her life, and helps her back to a place of confidence as the school is completely renovated and repaired. In subsequent episodes, it is shown that Nagisa continued to help her out even after the class's commitment to the school was paid off in full. It also provided an alternate glimpse into what Nagisa could become- someone dedicated to the forming and teaching of young minds, which presented an interesting conundrum: would he take after the Korosensei that was the "God of Death" from his previous life, or become like Korosensei the teacher, blessed with immense talent in certain ways but sworn to use it for the good of others?
Much has been made of Nagisa's androgynous appearance, and I believe this was a conscious character design choice with storyline implications that were surprisingly well-played out, gradually and steadily. To start with, Nagisa is not lazily homosexual as this stereotype might perpetuate; it's reinforced subtly and obviously that he's very much a straight boy outside of his appearance, and while his frame and hair allows him to easily crossdress, the two episodes in which he does, both times out of necessity (and actually forced by Karma and Rio Nakamura in the latter moment), there is clearly discomfort in having to do so, going beyond simply being uncomfortable in the opposite sex's clothes, which I don't doubt would be off-putting for plenty of people (and a turn on for others, but I digress.) Instead, it actually plays a very important part in the deeper inner conflict of Nagisa's life with his mother and her delusional dreams of wanting a girl, despite the fact that she has been gifted a fairly kind and perceptive young man for a son. Nagisa's appearance also has the patently useful side effect of making for great disguise when it comes to being an assassin, but I suspect the protagonist probably favored the high-tech P.E. uniforms supplied to them by the government around the midway point of the show. Further to the point though, Nagisa's appearance also suggests the personal inner conflict of what his future holds. Will it hold his mom's demands? Will it hold the quiet and sordid life of a master assassin? What will it be? In that sense, Nagisa's appearance is that of a book yet to be written; one that will resolve itself with a resoundingly definitive answer.
"Is it okay if I become an assassin?"- Nagisa Shiota, to Koro-sensei during career counseling  
Before we get there however, there was the influence of the greatest teacher anyone could ask for, and his role in his pupil's life. Yes, Koro-sensei provided personalized guidance to every last one of his students, but it was with Nagisa alone that one of his class might try and take after his profession- but which one? As was said earlier, Nagisa showed natural aptitude and a rare skillset that made him an ideal assassin…but he also showed a talent for touching the hearts of people who seemed closed off or in need, from  the young girl at the at the old schoolhouse the class repaired, to a raging Kayano in her darkest moments. As with everything else, Koro-sensei let Nagisa discover the answers for himself as time proceeded. A duality existed between master and pupil: the ability to flip a switch the moment life and death was on the line, but a kind and almost disarming ease when not in the heat of battle, not only characterized by Nagisa's distinctively non-threatening appearance most times, but also Koro-sensei's ability to win over an entire class of people aiming to kill him in an entire year through superb teaching, heartfelt life lessons, and just enough unpredictability to keep everyone guessing.
"Goodbye…Korosensei." – Nagisa Shiota, upon being given the final task of Class 3-E
The final resolution to follow Koro-sensei's footsteps not as an assassin, but as a teacher, is a triumphant validation of the former "God of Death's" duty fulfilled: a natural prodigy raised in a year long environment of both assassination and school instead chose the "classroom" part of "Assassination Classroom." It is also the validation of Nagisa's wishes and dreams, signaling his independence of decision making from his reluctant but now understanding mother, and it also in the grandest of traditions, the figurative passing of the torch, as Nagisa alone carries the academic flame of 3-E into the future. As we find out though, our little blue-haired assassin still kept those skills, and put them to very good use in his first ever teaching assignment. (Truth be told, he probably remembered the punks from the Kyoto trip in the first season, but those punks were now his students. And trust me, he was ready:)
Through tragedy, flowers blossom upon the fertile soil of the next generation. Be it Korosensei's sense of duty to his fallen lover, or a student looking to follow the master's footsteps, that too is part of the life lessons to be learned in Assassination Classroom. But this is about Nagisa at the end of the day, and he's got a wonderfully complex character that comes together nicely over the course of the show, with heartfelt emotional highs and lows, and an underdog mentality to beat the odds, whether that be the open defiance of Kunugigaoka Junior High's caste system, the takedown of a professional mercenary on a helipad, the drive to help his friends, from Karma and Kayano to his other classmates, or the important gain in self-confidence that finally allowed him to confront his mother and her repressive wishes for his life. Nagisa represents what it means to be constantly learning, even as we grow older, and the ability to find our way forward in life provided we trust in others, some good guidance, be it from God, family, or a giant octopus man, and ultimately, the reality that making tough decisions in life can be painfully transformative in ways we'd never imagine. But most of all, Nagisa Shiota is one heck of a character with a unique aesthetic and plenty of reasons to root for him. "What's In a Character" is quite the promotion from E-Class for this young man, but he deserves every bit of it.
---
Like what you see? Fan of Assassination Classroom or Nagisa? Leave a comment!