A fun post marks the return of AniB Productions today! I feel as if I've got a lot of catching up to do, but I also wanted to preface this piece by wishing everyone safety and good health amid the global COVID-19 crisis. With my current biology studies, I am all too aware of the risks scientifically this poses, so continue to use social distancing and best hygienic practices wherever you may be. Stay safe, readers!
---
On a lighter note, I'm happy to accept the nomination from ospreyshire at Iridium Eye Reviews to come up with some ridiculous titles for shows. In a twist of irony, when I read osprey's post at his blog, the exact three series I thought of were the ones mentioned as examples:
Rascal Does Not Dream of Bunny-Girl Senpai
Is It Wrong to Try and Pick Up Girls in a Dungeon (aka DanMachi)
That Time I Got Reincarnated As a Slime
This is definitely a fun idea to give some other anime that pretentiously long light novel-esque title treatment! I will note briefly the series above are all worth a look, at least from an anime POV, though Rascal may be the best of the three series listed. With any luck, a serious review for any of them may appear sometime, but not yet…as we're gonna pick some seriously silly titles. Before we do though, the rules (credit to osprey again, I'm gonna copy this part):
Choose up to five anime, manga or visual novel series that have a short title.
Light novels that have shorter titles (Date A Live for example) are also allowed.
Give these series a new title based on those classic overly long Light Novels we love!
If someone has already picked a series you wanted. It's OK! Let's see your own take on the title!
Link back to the original post so I can read people's suggestions, I'd love to read everyone's ideas. (it's this post right here)
Include Give it a Light Novel title in your tags so everyone including myself can find them all easily.

Nominate around 1-6 bloggers.
Without further ado, I present some familiar shows rebranded in the most ridiculous fashion:
Assassination Classroom
becomes
"My Delinquent Class Learns to Study And Kill our Alien Octopus Teacher!"
It won't be that easy, kiddos.
Little Witch Academia
becomes
"If Believing Is Your Magic, then Why Can't I Do It?"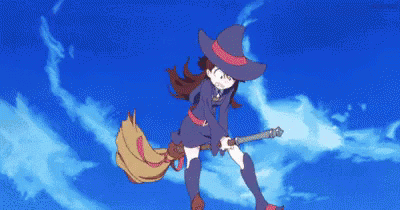 Akko attempt #256 to fly on a broom. She'll never say die, though.
Hunter x Hunter
becomes
"The Friends I Made On the Quest to Find My Dad Are All Dangerous!"

"What did you do to me?"
Monster
becomes
"Can The Decisions You Make Seal Your Fate?"
Kenzo Tenma sure finds himself in difficult situations more than he wished.
K-ON!
becomes
"Our Music Club Is Actually A Daily Tea Social!"

Despite her best efforts, Azusa did get caught in the Light Music Club's pace.
---
Alright, some nominees to continue this fun challenge!
---
Like what you see? Leave a comment!