With the new year comes new character pieces! It has been quite a while since one of these appeared, but between reviewing both Wreck-It Ralph films and the brief highlight on Vanellope in my end-of-year character pick-5, I found myself extremely compelled to write about the little candy racer. So "why" Vanellope, aside from being "a real racer"? There's plenty of reasons, and hopefully, you'll find several sweet layers here, like the layers of a jawbreaker.

(Major SPOILERS for Wreck-It Ralph and Ralph Breaks the Internet.)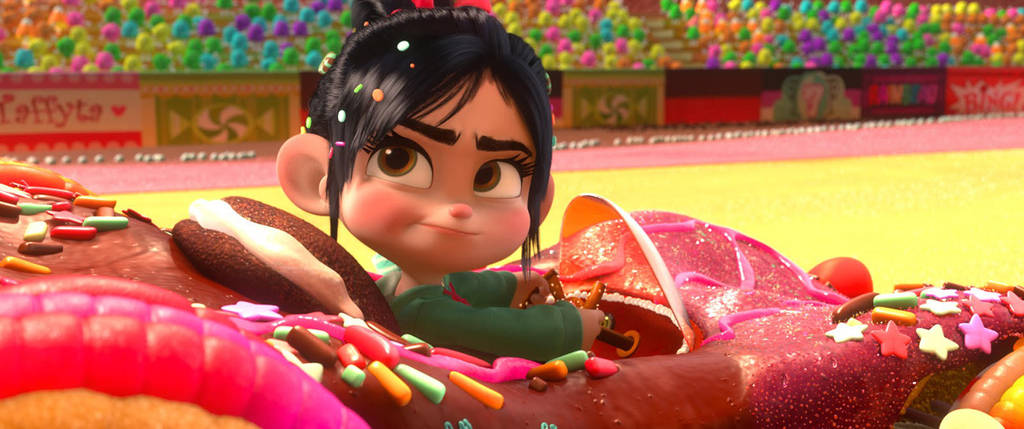 "I'm already a real racer. And I'm gonna win."- Vanellope, when Ralph tells her she just has to cross the finish line in her first race to reset Sugar Rush
Part sweet little girl, part candy and part sharp-flavored adventure with a hint of Sarah Silverman, Vanellope is a handful, regardless of your own opinion on her. A crack racer and the unlikely best friend of 80's arcade villain Wreck-It Ralph, her story is interesting precisely of how relationship dynamics form and emerge in her story, playing an integral part in her development as a character and an individual.
A large part of the reason Vanellope has so much to analyze is that she gets two movies' worth of character development as opposed to just one. In turn, her story shifts from a plucky outcast to someone who comes of age in the hopes of gaining a bigger dream- but in the process, forced to make some tough decisions as well. At the center of these decisions is ultimately her relationship with Ralph- and how that is impacted, both through her actions and those of the wrecker, neither of which necessarily occur in a vacuum.
"You're not from here, are you?"- Vanellope von Schweetz, upon first meeting Wreck-It Ralph
The first film sees Vanellope as she initially was- an individual hardened by the life she was forced to live under King Candy's sugar-coated fist in Sugar Rush. Beyond just being an outcast, she was also a full-on criminal as decreed by the corrupt regime, and so regardless of what her initial disposition might have been like (we have no idea, her game has been plugged in 15 years by that point), she's got a sharp tongue of sarcasm and wit no doubt honed from dealing with hostile individuals constantly. Therefore, her initial meeting with Ralph makes perfect sense- she had a) no perspective on the wrecker or why exactly a medal would be so important to him (she even asks what the big deal about the "crummy medal" is later in the film) and b) she had never encountered anyone vaguely kind to her, by virtue of being isolated in Sugar Rush for her whole existence, along with King Candy's attempt to delete her code, which left her with her signature "glitch" and a stigma of ostracization.
"C'mon, do we have a deal or not? My arm's getting tired."- Vanellope, when her and Ralph agree to work together for the first time
The duo bonds over the unlikely bond they wind up sharing in feeling socially outcast from the games they hail from- Vanellope, for reasons already outlined and Ralph due to his treatment as a "bad guy" even outside of game hours, where he's really not a bad guy, per se. However, it takes some time for this partnership to actually develop into a meaningful relationship, given that it's a agreement initially born of mutual interest, even moreso to Ralph, self-absorbed in his medal quest- but the language Vanellope uses to strike the deal ("what do you say, friend?") suggests that while she also has a mutual goal (become a real racer with a real kart) she was more open to the idea towards actually wanting a relationship, given it was likely the first act of kindness she'd known- in this case, Ralph scaring off the other Sugar Rush racers who had destroyed her homemade cart.
While Vanellope's tale is largely one featuring her relationship with Ralph, the first movie also see her in an interesting dynamic with King Candy- the treacherous ruler of the game who in turn is actually the old rogue racer Turbo alluded to throughout the film. The villain goes to extreme lengths to try and literally kill her, first by attempting to delete her code, and when that fails, turns her into a state criminal while also locking up the memories of everyone else in Sugar Rush to suppress both his own misdeed and Vanellope's true identity as the princess of the game. While Candy is ultimately defeated by Ralph at the climax, his megalomaniac tendencies are brought into an even sharper light by the hard-luck but innocent Vanellope, and nowhere is this in sharper contrast when Turbo is finally revealed in the climax of the final race.
If it was really one and done for films with Wreck-It Ralph, Vanellope would have still been a fine character with a satisfying arc that occurred, but she, along with Ralph, got a chance at a sequel which allowed for an even more in-depth exploration of the relationship that had been built by the end of the original film. In this way, the little racer hit the jackpot: a followup movie which actually did exactly what you'd hope to see in a developing relationship dynamic, and the fact that said followup film was both quite good (here's the review) and that Disney rarely does official sequels. Talk about luck.
"Do you ever think about how we're just bits of code, 0's and 1's? What if there's more out there?"- Vanellope, pondering greater possibilities to Ralph.
With a slight real-world time skip of 6 years (the exact frame between Wreck-It Ralph and Ralph Breaks the Internet), Vanellope and Ralph have developed a comfortable routine- one that is genuinely perfection on some level for the latter, but starting to get boring for the former. It's true the duo greatly enjoyed each other's company, but Vanellope had long since grown bored of the place where she'd once been imprisoned, and as the game's best racer, she'd become the proverbial "big fish in a small pond." Enter one broken steering wheel and the introduction of WiFi to Litwak's Arcade, and the impetus for things to take off was in place.
It's clear from the start the candy-haired racer is open to change in her life, from her excitement at going into the internet, to her eye-opening interest in Slaughter Race, and even her humorous foray into a room full of Disney princesses. It's true that she set out to save her game with Ralph, but in the process, she'd found a bigger world, and like a young adult searching out careers and dreams, she wanted to take her racing talents to a bigger level and a platform that would keep her excited every day. Of course, with that realization came the difficult fact that her relationship with Ralph- who she virtually spent all of her time with- would have to change, and while Vanellope accepted this would have to happen quickly enough, the Fix-It Felix, Jr. bad guy had quite a few more struggles with it.
Ralph's genuine care for Vanellope as his friend devolves to a certain point where the original goal (the steering wheel) is in question whether it's for Vanellope or his own self-interest. The wrecker is content in routine and happy in his own way. He can't comprehend Vanellope finding a different dream or something bigger than what she knew, and resistance to that major change fuel Ralph's childish and ultimately dangerous actions, or namely, his emotional insecurities, which become visually represented by the monstrous viral Ralph clones, and later, the King Kong Ralph homage.
"You really are a bad guy."- Vanellope, after Ralph crushes her kart in Wreck-It Ralph
Ralph's betrayals hurting Vanellope on a fundamental level in both films makes a lot of sense, not only from a realistic human perspective, but given the amount of faith and trust she put into the big guy for it to be betrayed. Between the crushing of the candy kart and the reveal that Ralph unleashed the dangerous virus upon Slaughter Race, both scenes are two of the most emotionally painful things between both films, and both times, Ralph acts out of a certain ignorance- but the intent differs. In Wreck-It Ralph, Ralph truly believes he's done the right thing, and Vanellope's pain comes from the one person she now saw as a hero (she gave her homemade medal right before, which really makes this hurt) betray her and destroy her dreams at the time. By contrast, the betrayal in Ralph Breaks the Internet is not caused in part from an outside party, like King Candy- but rather, Ralph's own-self centeredness and insecurity over the idea of losing Vanellope. And in turn, the reaction is even more crushing, when the same medal that Ralph kept all those years is chucked into the abyss of the web, broken in two, symbolizing a permanent change in that relationship. In both instances, there is forgiveness- but again, the context differs as a contrite Ralph returns to help Vanellope after admitting his mistake with a fixed kart and a sincere apology in the first film, while the sequel instead sees Ralph accept change and in turn, allows Vanellope to do her own thing.
By the end of Ralph Breaks the Internet, Vanellope has transformed into someone who's grown up a bit, even if her physical appearance hasn't changed. Perhaps in a way that's a metaphor for parent who always see their kids as they were, rather than how they look grown-up, and indeed, while she and Ralph are the best of friends, the relationship is more like that of an older brother and sister or even a father to a daughter at times. The long-distance relationship the duo maintains by the time the film ends hits hard after the emotional buildup and goodbye in this movie- while mirroring the ending of Wreck-It Ralph's parting hug in Sugar Rush, this occasion is much more bittersweet. It's the real human connection of change- and it's inherently not easy to digest, even if it represents real growth in one's own life or relationships. Furthermore, it represents something much more quiet and contemplative than anything else we'd actually seen from Vanellope and Ralph over the rest of the two films, with a maturity that is surprisingly complex.
The dynamic duo. Changed, but stronger for it.
Whatever her circumstances,  "the glitch" proved to have both a mental fortitude and conviction that served her well. There was something natural in a way about her leaving Sugar Rush by the end purely from a character perspective standpoint- here was a game she was once unable to leave at all, she grew to dominate its raceways to the point of boredom, and now she left it it for good, with a much bigger world out there to explore. Her friendship with Ralph, integral to her character, was both organic and beautifully executed, showcasing both a loving bond- but also one that was severely tested and continued to change with the characters. But Vanellope was also adorable, which didn't hurt, but looks alone don't win you an in-depth character piece, or a chance to pursue dreams, or even the ability to be an incredible race car driver. Make no mistake, the deuteragonist of Wreck-It Ralph and arguably the co-lead of Ralph Breaks the Internet is a remarkably developed character, with an arc that is worth watching and re-watching again.
---
Like what you see? Big fan of Wreck-It Ralph or Vanellope? Leave a comment!